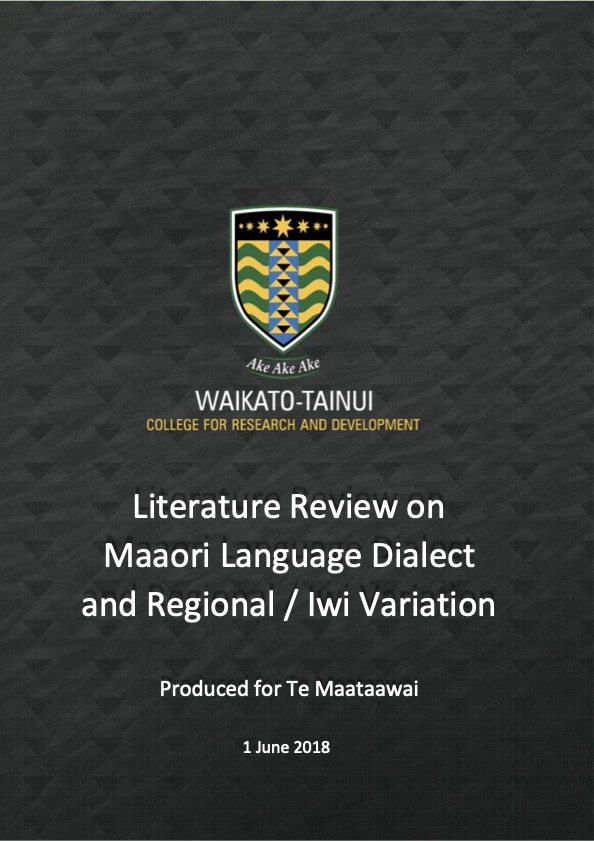 This research provides an understanding of dialect and regional variation in te reo Māori using Waikato-Tainui as a case study.
The journey into Maaori dialectal research is not merely an act of academic enquiry or an exploration of Maaori linguistic structure and discourse, it is a journey into one's own identity. To know one's own language, is to know yourself. Dialect is not merely about words; it is really about identity. It is about knowing who you are, where you are from, how you are related to others and where you fit in the world. The Waikato-Tainui dialect, and the Maaori language, are a great source of pride in, and allegiance to our whakapapa and identity.
The paper is organised into three parts.
Part 1: Project background, objectives, Waikato-Tainui context and research methodology
Part 2: Literature review on dialect
Part 3: Gaps in the current research on dialect and highlight recommendations
It is important to acknowledge that this report deliberately uses the double vowel convention to indicate elongated vowel. This is now typical of the Waikato-Tainui writing style and has become the standard for their official tribal documents.
Author: Dr. Te Raukura o Te Rangimaaria Roa
Editor: Kristin Te Amo
Contributors: Dr. Tom Roa, Raahui Papa, Paania Papa, Raewyn Mahara, Maehe Paki, Tammy Tauroa, Hineranga Kara, Charles Willison and Moengarau Matenga
Prepared by the Waikato-Tainui College of Research and Development